Stylemaster Protective Face Mask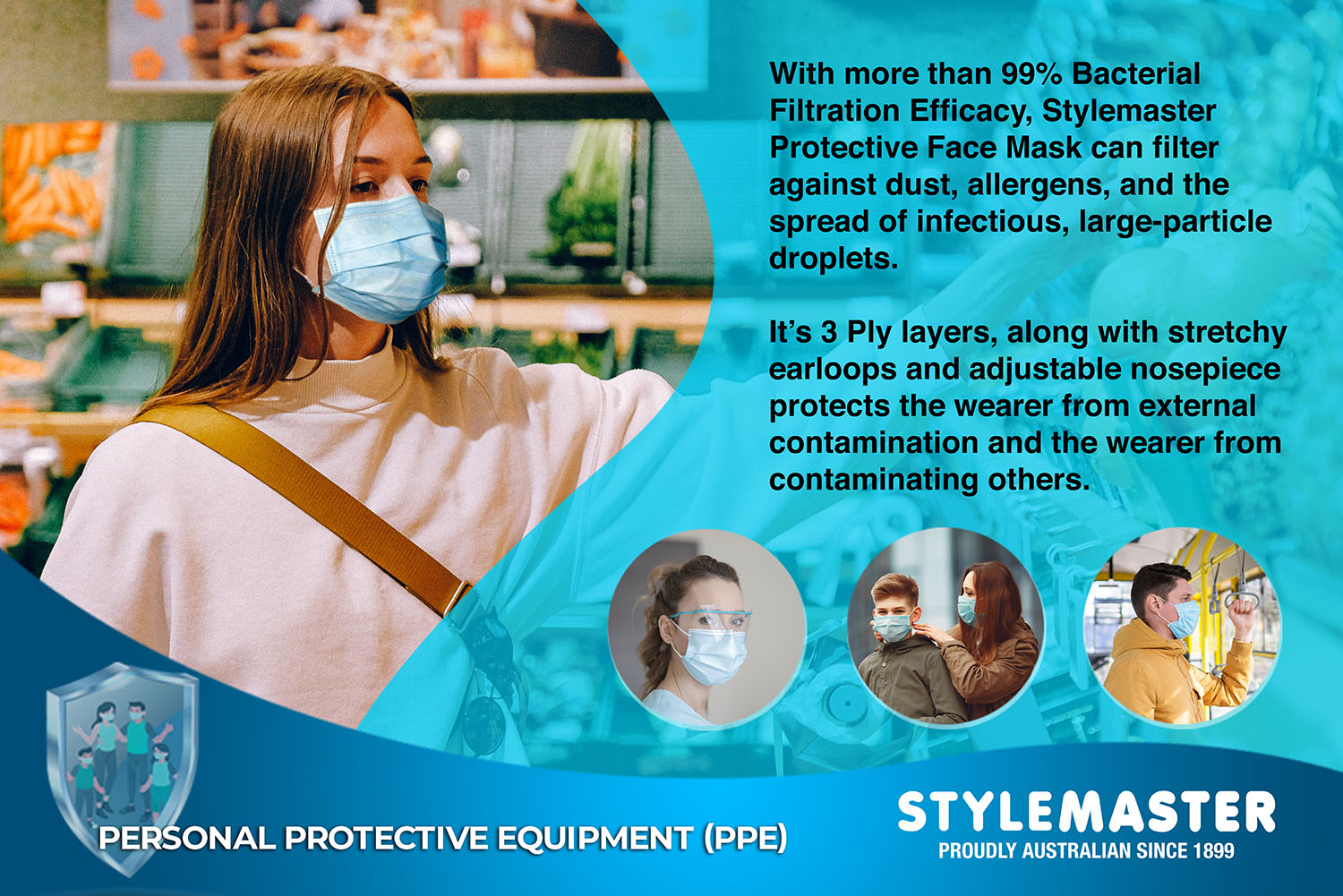 Why choose Stylemaster Protective Face Mask ?
Sleeping well is part of a healthy lifestyle to maintain a healthy body. MGC is renown for making good orthopaedics mattress and specialise in treated textiles such as ultra-fresh for anti-bacteria, anti-mildew, anti-mould and anti-dust mite for its bedding products. Besides that, MGC also uses high-tech materials such as negative ion, temperature-regulating materials in the products, etc.
We understand the value of health and safety is so important to everyone, we continously looking out for better protective solutions for our customers.
We are excited to share that we have launched a new division, Personal Protective Equipment (PPE), under our Brand Stylemaster , Stylemaster originated from Australia since 1899. Our first product in this division is the Stylemaster Protective Face Mask, 3 Ply form fit face mask with Bacterial Filtration Efficacy > 99%. These masks give dual way protection to the wearer against external contamination, as well as from contaminating others. All our masks are laboratories tested and passed International standard including attained SGS certification and FDA approval.
Bacterial Filtration Efficacy (BFE) – Filtration efficiency by comparing the bacterial control counts to test article effluent counts with greater than 99%.
Certifications
European Standards (EN) EN149:2001+A1:2009 – Respiratory protective devices – Filtering half masks to protect against particles.
U.S. Food and Drug Administration (FDA) – Product that provides reasonable assurance of safety and effectiveness.
Marks and Standards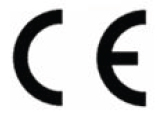 NPS.GS
NPS020030149-CE DPM2020
Q/320683 KBC 18-2020, CE FFP2 (EU) 2016/426, EN149:2001+A1:2009
CTI A2200032100107C
Bacteria Filtration Efficacy BFE> 99%
Stylemaster Protective Face Mask provides dual way protection -

it protects the wearer from external contamination and the wearer from contaminating others.
Wear a mask if you have a fever, cough, or other respiratory symptoms.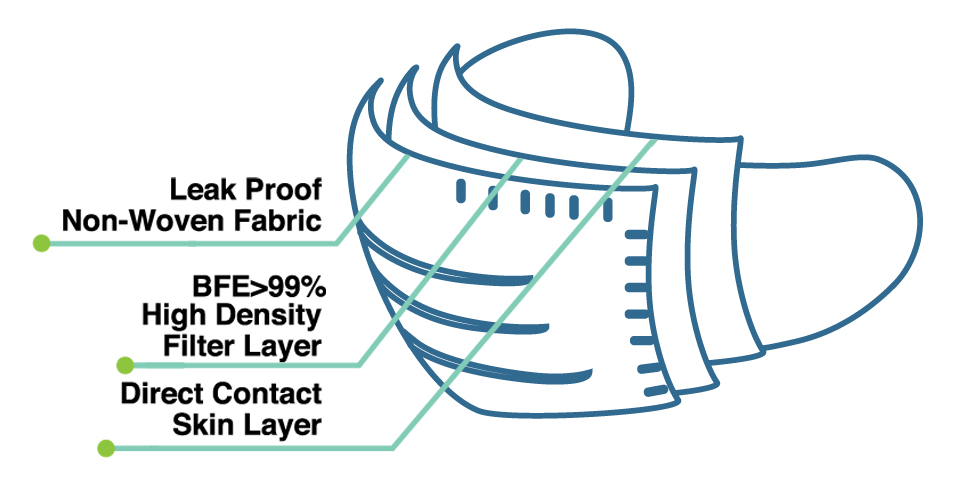 Model: 3 Ply Earloop
Size: 95mm X 175mm

Super soft feel 3-ply facemask – to filter air borne droplets and particles.
Outer layer – Hydrophobic High Density Filter Layer
Is intended to repel water, blood and body fluids
Middle Melt-blown layer – Leak Proof Non-woven Fabric

Is designed as the filter to stop germs from entering or exiting the mask
Inner layer - Direct Contact Skin Layer

Is intended to absorb water, sweat and spit.
Form fit design with durable earloops and an adjustable nosepiece, to allow for a comfortable fit for all users.
Expiration Date: 2 years from date of manufacturing
Packaging: 1 Box of 50pcs.
(Within the box there will be 5 packs of 10 masks each. This is to give more convenient for the user and also protecting the rest of the masks not contaminated easily)
How to wear and usage of a surgical mask.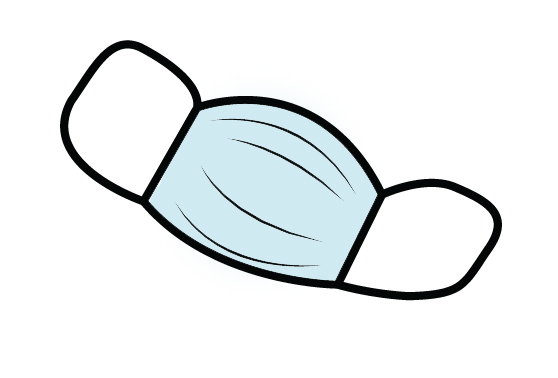 Holding the mask with clean hands by the earloops, position the blue side of the mask at the front away from you, while the white side touches your face.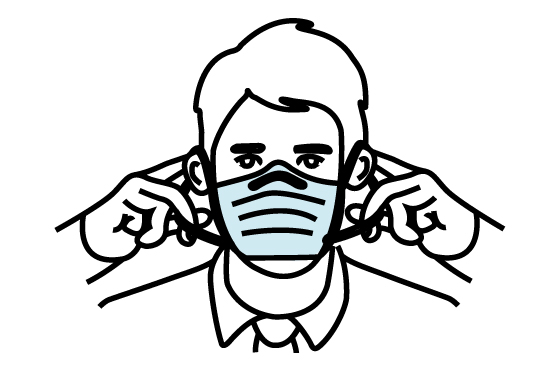 Position the mask's nosepiece over your nose and place a loop around each ear.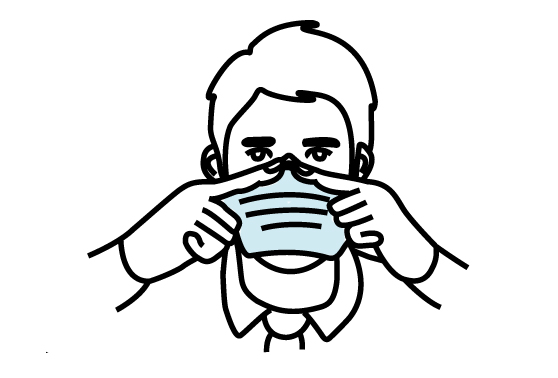 Mold and adjust the nosepiece to the shape of your nose. Pull the bottom of the mask over your mouth and chin.
Replace with a new mask when it becomes wet from spit as it may be damaged.

Never wash or disinfect masks.

Never share masks with others.

Do not reuse mask.

Store in a dry, cool, ventilated place. Avoid direct sunlight and stay away from fire and flammable materials.

Keep out of reach from children.