Stylemaster Bedding Collection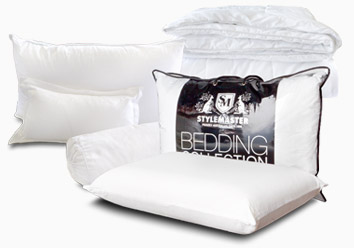 The Stylemaster Bedding Collection has everything you need to stay warm and cosy. Our bedding products are developed with extensive research and development. Whether you're looking for hypoallergenic pillows or lightweight quilts, every piece should have both comfort and design in mind. Here are some staples you might need; be sure to check out all of them!
Comfortgel Collection
Soft, shapeable, Odourless, Down Feather Alternative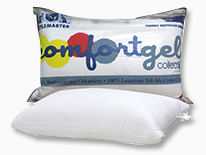 Comfort Gel Fiber has properties that allow it to emulate the lightness and air trapping abilities of natural down, making it a great alternative for those who are allergic to down feather. Aside from being hypoallergenic, Comfort Gel feels as comfortable as pure goose down, is lightweight odorless and requires minimal care. Available in different models:

Memory Foam Collection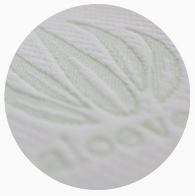 Molds to the shape of your head - Memory foam pillows contour to the shape of your


head, just as a memory foam mattress contours itself to your body.
No adjusting- Memory foam does not require flipping, fluffing, or any of the adjustments


of a regular pillow, as it will retain its shape and size.
Memory foam pillows are available in different sizes or shapes
Available in different models:
Aloevera contour memory foam pillow

- Aloevera treated fabric is infused with Aloevera Extract-known for its soothing, healing properties, for helping the skin to stay hydrated and stimulating cell growth. It also helps balance our energy.

Mikino memory foam pillow

- Milk treated fabric covered pillow (NEW)
Give yourself a chance to enjoy MILK life! Have a MILKYFull sleep now!


Features:

Nourish Skin
Fine Moisture Absorption
Healthy And Comfortable
Environmental friendly


Neo Sense memory foam pillow

(NEW)

-
Stylish jacquard knitted fabric covered pillow.
Sophisticated, relaxing & comfortable.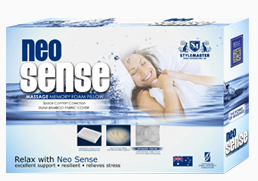 Basic Collection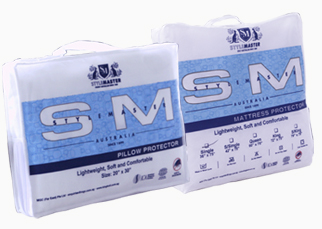 Stylemaster Basic Pillow / Bolster/Mattress Protector/Pillow Protector/Bolster Protector
Hollow Fiber infill are the workhorse of the pillow world and are the most versatile; being a pretty good choice for most people and suited to many sleeping styles. Relatively cheap, lightweight, good for those with allergies, easy to care for, easy to bend and scrunch to get required height, not noisy
Latex Collection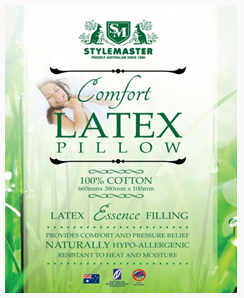 100% Cotton cover. Latex Foam filing.
Size: 66cm x 38cm x 10cm

Provides Comfort and Pressure Relief
Provides Comfort and Pressure Relief
Resistant to heat and moisture
Stylemaster Quilt Collection
Quilt made with microfibers provide good insulation, are wrinkle-resistant,
stain-resistant, impermeable, breathable and wash easily